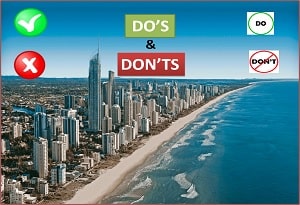 DO'S
Make sure you have a valid passport and a visa to enter the UAE. Have photocopies of your visa,passport, and other important travel documents and keep them separate from the original.
Keep your Passport, visa, and tickets in your hand baggage.
Leave behind a copy of your itinerary with family at home so that they can contact you in case of an emergency. Retain UAE emergency phone numbers always with you.
You should Change your money from banks or authorized money changers in Dubai.
Always take care of your passport and currency.
Always drink bottled water that is easily & cheaply available everywhere in the UAE. Tap water is desalinated and safe for drinking, but drinking bottled mineral water is recommended.
Respect traditions and local cultures of the UAE.
Dress appropriately. Dress in public areas should be modest and respectful. As a general rule women should cover their shoulders and knees.
Hard Liquor can be purchased from Dubai International Airport.
Certain medicines are not allowed in the UAE even with a prescription. If you take medication regularly, it is recommended to bring sufficient medicines. If you are bringing medication into the country make sure you carry a copy of your prescription with you in case you are questioned at customs.
DON'T
A WORD OF WARNING
Dubai, like most countries in the world today, has its fair share of crime. When you are out please take the necessary safety precautions. If you are visiting nightclubs or bars never leave your drink unattended and don't accept drinks from strangers. While rare, having your drink spiked in Dubai can happen.